01 December 2005

Blog Home : December 2005 : Permalink
Witangemot Roundup the Fifth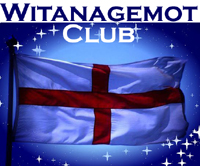 In the spirit that "volunteers are happier men than pressed ones" and seeing that I'm temporarily not up to my eyeballs in paying work I said I would be happy to do this months round up of Witangemot items so and my fellow members of the Witangemot have very graciously permitted me to do so. I have decided to break down the topics for November into a few groups. Unforunately I suspect that future Rounder Uppers will be able to use many of the same group headings for some time.
The Scotch and the West Lothian Question
Given the current ZANUlabour
Scottish Raj
, it seems likely that the Witangemot will be discussing the asymmetry of Anglo-Scotch relations for a while. One thing to be bourne in mind is that the Scotch are lacking in a sense of humour as noted in the tale of
Sir Gareth de Toque & the Scotch Parliament WebShite
which I covered
earlier this week
after seeing all the
posts
elsewhere
on the Witangemot. If you want to link to the satire then probably
my copy
is the best thing to link to since I have removed the
logo
which caused the most offense and replaced it with a different one.
In the "West Lothian Question" debate, attention is drawn, via the
England Project
and the
Cross of St George fora
, to a piece by
Simon Heffer in the Torygraph
where he tries to get the Tory position across and does what I consider to be the usual "Yankee Liberal" trick of explaining the problem well and then completely cocking up the solution. Perhaps a better discussion and possible solution is by new Witangemot member
"Tom Paine"
. Earlier the month "ought to be a Witangemot member"
Gary Monro
discussed the "DD" viewpoint and is slightly more optimistic about the Tories, unfortunately Wonko found that DD was rather less sound on the
Barnett Formula
. The
CEP also reports
some comments by
DD and DC
about our sheep-shagging neighbours to the west.
In other Scotch news it was noticed that
Scotch students are able to sponge off the state
and hence are
less in debt
that their English fellows when they start work at Burger King and that the Scotch won't be suffering so much from the
flu this winter
as the
English
.
Englishness (vs Britishness)
Another topic that is going to be a popular repeat is the England vs Britain discussion. This month we got
coverage
in
the Sun
thanks to some
astoundingly
st00pid
statements
by a
certain
Terry
White
(commented on elsewhere too) which demonstrated the utter contempt our ZANUlabour government has for about 85% of its electorate.
England, as opposed to Britain, has an unfortunate history around the world and within the British Isles and please do not say that it is all past.
It is a fact that the right and extreme right in Britain cloak themselves in the English flag, the cross of St.George and claim to be the true representatives of the English.
Wherever there is hooligan behaviour, usually linked to extreme right-wing political groups e.g. at football matches here and abroad, it is the flag of St.George that is displayed and that, I would imagine, is the reason why the MP referred to this type of 'Englishness' as a threat to democracy.
However in a bid to be slightly balanced WRT the labour party it has to be said that that response was kicked off by a rather more intelligent essay by Labour MP
Gisela Stuart
, which was mostly about our EU elites, where she said:
Yet it has only been in the last five years or so that I have heard people in my constituency telling me, "I am not British – I am English". That worries me. British identity is based on and anchored in its political and legal institutions and this enables it to take in new entrants more easily than it would be if being a member of a nation were to be defined by blood. But a democratic polity will only work if citizens' identification is with the community as a whole, or at least with the shared process, which overrides their loyalty to a segment.
That comment also sparked a debate in the
Birmingham
Post
, including a clarification by
Mrs Stuart
, all of which was reported at
the CEP
and
the England Project
and was far better than the usual discussion. Moving a tad further north we had the new
Archbishop of York
,
Dr John Sentamu
, making some sound comments about
the English
. It ought to be a cause for concern that the only public figures who seem to be able to make intelligent comments and get quoted in the "Establishment Media" seem to be immigrants (from Germany and Uganda respectively and note that intelligent need not imply agreement).
The Flag
Going back down to the pits of EUrocratic jobsworthness we have
Wear Valley District Council
desperately trying to fly the EU rag instead of the Cross of St George. If that weren't enough it seems that the EU
wants to replace
the
red ensign
with the same
blue rag
despite a certain amount of questionable legality. The only other slightly good news is that the Eurocrats would still see a lot of red when they head down to the Riviera for their "Vaccances" because most of the yachts docked in Cannes, Antibes, St Tropez etc. are flagged in other parts of the commonwealth such as Bemuda or the Cayman Islands where they still have a nice red flag (must take a picture next time I visit Antibes port).
Cars, Parking Tickets, the Law etc.
Another long running battle with jobsworths and other officious pin-heads is to do with the right to park one's car without being given a massive ticket. Now clearly there are frequently two sides to the argument and the English blogosphere has both with Bill Stickers representing the forces of law'n'order
against the scofflaws
and
Neil Herron and co
fighting the good fight to stop us having our constitutional rights taken away. In late breaking news (via
Samizdata
) it seems that the DVLA has a charming habit of selling vehicle registration data to
anyone who wants it
without doing any check to see whether the purpose is illegal
, immoral, fattening or a cause of cancer in rats
.
But the DVLA wouldn't deal with such people, would it? Yep. It does. It has been forced to hand over its list of the 157 companies registered to buy personal information about drivers — the list includes bailiffs, debt collection agencies and financial services companies. DVLA bleats that it is obliged — under an undebated Statutory Instrument of 2002 — to sell the information to anyone with "reasonable cause". Well, almost anyone can claim that a car might park in their space. Thus a credit company, which bombards us all with mailshots offering loans, is on the list because it's got a company car park. Nor does DVLA check that it is not selling the list to people with criminal records: it deals with Aquarius Security — clampers whose management were found guilty of blackmail at Bristol Crown Court and given prison sentences. One of them was already on an ASBO after being accused of driving his truck into a 60-year-old man, breaking his knee. They clamped one young woman's car in the middle of a three-point turn. But the DVLA saw nothing wrong in selling that company addresses for £2.50 each so that they could find other citizens to harass.
Other people who can get your address just by noting down your registration number include a car park management company, which without issuing tickets or reproofs sends bills for £170 to people it has secretly photographed overstaying the free limit in supermarket car parks, and another which notoriously forced an Olympic athlete to pay £335 to retrieve a clamped car in Swindon.
Also, on the subject of the law, there has been a lot of evidence recently of moonbattiness spreading amongst the various chief constables etc. of England who have
become deeply political
. One wonders whether this is because they are engaged in a game of musical chairs to see who will win in the amalgamation wars but it probably isn't as this
powerpoint slide shown at The Policeman's Blog
shows that the tendency is deeply embedded.
Blues&Twos
reports that
Sir Ian Blair
is
on a plane of his own
(and lacking a pilot) but we also have
Mancunians trying to ban toy guns
and
Avon & Somerset police
trying to
recruit more minorities
in an area where 99% of the population is pasty white.
English Civic Society
The last link above also refers to an
article in the Torygraph
about young muggers being given a slap on the wrist and told nto to do it again unless they hurt anyone. Now
I wrote about this as well
and, no doubt because of my public school background (shared with
other prominent bloggers
), suggested that 6 of the best would be the most suitable punishment. That post of mine also linked to a Sunday Times article (found via
Melanie Phillips
) which makes depressing reading as does this one from
Harry's Place
. In the same basic area comes mention of the
gianormous Mosque
proposed for the 2012 olympics. Finally there is the
Norfolk judge's
view of
St George
as being less important that St Patrick
Memorials
November is the month when we remember our war dead, and both
I
and
an Englishman's Castle
posted suitable
Kipling poetry
and
Albion's Alchemist
had a great picture .But lest we slide into melancholy and depression I'm ending this round up with
Alfred the OK's memories
of November 5th long ago.
Thats it for this month. You can recommend posts for next month if you join the
Witangemot Yahoo group
and possibly by
submission
to the
Witangemot blog carnival
entry (although it seems that
Gareth created another
one earlier that is doing a fine imperssion of a Norwegian Blue Parrot so some amalgamation may need to occur).
PS also linked at the
TTLB über carnival
---
I despise
l'Escroc
and
Vile Pin